Contact Us
STORE TRADING HOURS
Opening hours are subject to change due to Covid lockdowns. Please call 9838 1400 before coming to the store.
Contact Form
Please complete the form below if you have any enquiries. *Denotes field must be completed.
Only works from standard site, not mobile site. We are currently looking into this issue.


Shop Location
We are located right between KFC and BWS bottle shop, opposite Australia Post.
There is a driveway between us and BWS where you can park.
Please bring all enquiries, hand held machines and push mowers to be serviced through the front door.
Ride ons to be repaired can come through the rear gate.
Riverstone Mower World
42 Garfield Rd East
Riverstone
,

NSW
2765
Phone:

(02) 9838 1400
View Map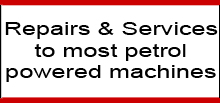 |
|
|
|
|
|
|
|

|
|