Push Chippers

Rover Chip Shred and Vac
Model: 24A-06MP333

159cc engine
22" width
Chips 1.5" diameter
7 foot hose for sucking

Rover Chip Shred and Vac
Model: 24A-204R333

205cc engine
Chips 3" diameter


Push Chippers
A push chipper shredder is generally used for making the right use of the extra debris that are there in our garden and spreading it out in an even way all across the garden. This is how can make use of the waste twigs, stone chips and other materials in a proper fashion as well. Let us get to know about some of the best chipper shredders that are available in the market in the recent times that can prove to be very beneficial for you.

There are many people who love to have neat and clean garden at the back of their house. Apart from this there are a number of people who love to indulge themselves in the act of gardening as it's one of their best hobbies. It is mainly for this purpose that the demand for shredders seems to have grown in a massive way. Shredders act as one of the best way in which you can keep your garden neat and arranged. Thus it is very essential that you keep the best chipper shredder that is available in the market. Chippers are a common thing that is basically being brought by many people these days. The most important reason for this is that these chips prove to be a very convenient way in which people can take care of their gardens. If done manually the removal and the laying of debris can really be a very strenuous task. Thus it is always beneficial to have a device like this which can prove handy at all times.
Rover Challenger Mower Model: 11A-H00K333
This is one of the best shredders that are available in the present market in the present time. It has been made with the best quality steel to give you the best performance for a long time. This is indeed a great way to get the best service that you can in case of a shredder. This device has exactly the perfect width and thickness that is needed to give you the best results. Though not meant for gardens or lawns that have intense grass growth, this device can be quite useful in case of your normal backyard lawn.
Rover Kensington Cylinder Mower Model: ROVKENS17L
With a Rover engine of 118 cc this device has turned out to be one of the best that you can get in the market. If you are looking for a convenient device that can help you solve your purpose of evenly distributing the debris and the waste materials across the lawn or you garden, then you can be assured that this is indeed the best required product that you can get in the recent times to solve your purpose.
Wheeled String Trimmer Model: 25A-26KE332
In case you have a garden that is full of tall grasses then you will never find a better option than this device. This device has basically been created for the purpose of shedding long dense grasses that can be cut off in an easier way. It is generally observed that this type of gardens is more difficult to arrange. Thus you need to have a very appropriate piece of chipper that will help you spreading all the debris around in a very easy way. This will also give your garden the required neat look that you have desired for.
Just in case you are worried as to where to get these devices, you can always go online for this purpose. In fact you do not even have to be physically present in the place yourself to order the product and neither do you need to have excess manpower for this. You can always have it delivered at your doorstep.
These are some of the best products that you can get in the present market. You can be very assured of the fact that these will indeed help you in the required work. You will get to see a number of chippers for sale that might appeal to you. But make sure that you buy a chipper only according to the need that you have. This will save both your money and your time. Planning out and having a clear idea about the exact thing that you want can always help you save some amount of time that you would otherwise be wasting in searching the wrong products for a long time.
---
Riverstone Mower World
42 Garfield Rd East
Riverstone
,
NSW
2765
Phone:
(02) 9838 1400
View Map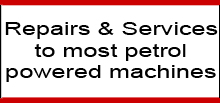 Our Suppliers

|
|
|
|
|
|
|
|

|
|
|