Brushcutters and Trimmers

Honda UMS425 Trimmer



25cc 4 stroke engine
Loop handle
Tap and Go trimmer head
4 year domestic warranty




Honda UMK425 Brushcutter



25cc 4 stroke engine
Heavy duty Tap and Go trimmer head
Anti-Vibration engine mount
4 year domestic/3 year commercial engine/
1 year commercial frame warranty

Loop Handle comes with -
Safety goggles & single shoulder harness

Bike Handle comes with -
Safety goggles and full harness




Honda UMK435 Brushcutter

35cc 4 stroke engine
Heavy duty Tap and Go trimmer head
Anti-Vibration engine mount
4 year domestic/3 year commercial engine/
1 year commercial frame warranty

Loop Handle comes with -
Safety goggles & single shoulder harness

Bike Handle comes with -
Safety goggles and full harness

Stihl FS 45 Trimmer

27.2cc 2 stroke engine
Multi-function control handle
Weighs 4.1kg

Stihl FS 45C Trimmer

27.2cc 2 stroke engine
Multi-function control handle
Easy starting system
Weighs 4.3kg

Stihl FS 55R Trimmer

27.2cc 2 stroke engine
Multi-function control handle
Easy starting system
Weighs 4.9kg

Stihl FS 85 Land-owner Brushcutter

25.4cc 2 stroke engine
Ergonomic bike handle
Stihl Anti-vibration system
Multi-function control handle
Stihl ElastoStart
Tool free handle adjustment

Stihl FS94R Professional Brushcutter

24.1cc
Stihl 2-mix engine, reduces consumption and pollution
Stihl Anti-vibration system
Easy starting system
Weighs 4.6kg

Stihl FS 260 Professional Brushcutter

41.6cc
Stihl 2-mix engine, reduces consumption and pollution
Ergonomic bike handles
Stihl Anti-vibration system
Easy2Start system
Multi-function control handle
Tool free handle adjustment
Weighs 7.9kg




Brushcutters and Trimmers
Riverstone Mower World is a highly respected outlet accredited with providing high-quality outdoor garden equipment. Riverstone Mower World has built a solid reputation based on top notch outdoor garden equipment and lawn mowing services. We provide garden equipment that is not only potent and effective but foremost safe. We are dedicated to providing excellent service, deep expertise and an environment our clients and associates want to be part of for a long time. We employ highly trained and qualified staffs who offer unparalleled service transcending the expectation of clients. We provide a wide variety of garden equipment that suits both the home gardener and even a professional contractor. Riverstone Mower also offers both repairs as well as replacement services for your lawn mower, chainsaw and brush cutter.
We provide strong and robust brush cutters that are highly effective in clearing all the grass. When clearing dense vegetation, it is vital to have a powerful machine that can effectively clear the grass in just a small amount of time. The grass cutters are available in a wide variety of engine sizes. These grass cutters are accompanied by appropriate accessories that enable them to be used for other purposes such as clearing shrubs, trimming grass and also thoroughly clearing undergrowth. The brush cutter is fitted with a long shaft, allowing the equipment to be used on a wider working range.
Grass Cutter
We carry a variety of grass cutters that can be used on both sparse and dense vegetations. We help clients with equipping the machines with an appropriate ergonomic harness to enhance efficiency, relief and comfort. The grass cutters feature handlebars that are appropriately angled according to the specific shaft, ensuring that they hold the even load while at use. All grass cutters feature proper vibration dampening. The vibration allows a person to use the machine for long hours without getting tired. Most machines feature handlebars that can easily be angled or folded down to facilitate easy storage and transport. Riverstone Mower also carries a wide range of outdoor accessories and also cutting equipment that you can choose from according to your preference.
Whipper Snipper or Line Trimmers
We also carry whipper snipper also known as line trimmers that provide style, precision and accurate edges while cutting. These are highly effective in giving your lawn style. Petrol models of trimmers are most effective for use in big ranches since you can easily refuel them and they are effective in cutting long, tough grass. Trimmers with curved shafts are mostly used for domestic purposes while those with straight shafts are used for heavy duty purposes.
We carry different line trimmers including electric, petrol or cordless trimmers. Our professionals help clients in choosing the type of trimmer that is most appropriate for their lawns depending on the grass type, the shape of the lawn and edges of the lawn. . Safety guard- We carry trimmers that are mounted on the cutting head to minimize flying of debris during an action. The guard does not limit the cutting views, and you can clearly view where you are cutting.· Line length-limiting blade- Most of our blades are mounted on a safety guard to enhance accurate trimming in regards to length. The blades are in appropriate sizes to reduce chances of overloading the machine.· Shoulder harness- We ensure that all trimmers have harnesses that properly clip onto the shaft, thereby, supporting the trimmer's weight.· Line-feed system- Our trimmers feature automatic systems giving you a proper cutting line.· Rotating head- The trimmer's cutting head can easily be positioned horizontally for the purpose of grass cutting and vertically for edging. You do not have to turn the tool to access vertical trimming.· Edging guide- Most of our models feature an edging guide that allows you to cut accurately straight edges.· Accessories- The trimmers come with additional accessories such as extra edging heads and brush cutting blades.
All of our equipment is designed to provide a combination of versatility, durability as well as high safety than all other outdoor equipment that are available in the market. We sell all equipment at some of the most competitive rates in the market. Make an informed decision to choose the outlet with a proven track record Riverstone Mower World, in delivering high-quality, durable and effective outdoor equipment.
---
Riverstone Mower World
42 Garfield Rd East
Riverstone
,
NSW
2765
Phone:
(02) 9838 1400
View Map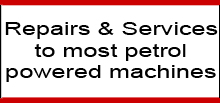 Our Suppliers

|
|
|
|
|
|
|
|

|
|
|