About Us
Riverstone Mower World started out as John Stewart Mowers - a one man operation - in 1993. In 2008 we realised the need to expand, moving to a larger premises where things could be clean and organised, offering our customers a better shopping experience and increasing our range of products.
With a new business name - one that reflects our commitment to the local area - and more reachable location with great parking we, at Riverstone Mower World, are now able to serve you better.
With experienced, enthusiastic staff operating in all areas of our business, we are dedicated to serving you and making your experience with us a pleasant one.
Our mission is to provide quality products and service to our community and to see an increase in our customers satisfaction through the use of these products.
Let us explain our mission statement to you. There is nothing that makes us happier than when a customer returns after having bought a quality product from us, raving about how good it is - how easy it is to start, how much time they save by using it, how quiet it is and how happy they are about having made their purchase. It is for this reason that we have made our mission statement one that motivates us to sell quality products and see our customers happy at the end of the day.
Frequently asked questions
Q. What hours are you open
A. Monday-Friday 9am til 5pm
Saturday 9am til 12pm
Q. Are you open Sundays
A. While we have opened on Sundays previously we longer do this
Q. Is there access for trailers and horse floats for picking up/delivering ride ons for repairs?
A. Yes. Drive down between us and BWS bottle shop. You can then veer to the right and reverse towards the gates at the rear of our shop. Please park and come in through the front of the shop to be attended to.
Q. Can we come through the back of the shop?
A. Please bring all enquiries, push mowers and hand held machines through the front door so that they can be processed correctly by our staff. If you are dropping off or picking up a ride on please still come through the front of the shop.
---
Riverstone Mower World
42 Garfield Rd East
Riverstone
,
NSW
2765
Phone:
(02) 9838 1400
View Map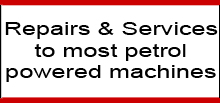 |
|
|
|
|
|
|
|

|
|