RIVERSTONE MOWER WORLD MOWERS & GARDENING EQUIPMENT

Riverstone Mower World, your local lawn mower and hardware shop, has been servicing Riverstone and surrounding suburbs since 1993. We are a large retail and repair outlet with motivated, knowledgeable staff whose aim is to make your experience at Riverstone Mower World a smooth one.
At Riverstone Mower World you will find a wide range of outdoor garden equipment to suit everyone from the home gardener to the professional contractor. If your lawn mower is in need of some repairs or it's time to upgrade your brushcutter or chainsaw, we have something that will meet your needs. For acreage owners, your new ride on mower is in store, assembled and ready to mow. We give you a full run through on it's features and benefits and make sure you are confident using it.
Our leading brands include:

Stihl - complete petrol powered range in stock, including chainsaws, blowers, brushcutters, hedgers and pressure washers
Honda with their full range of mowers, brushcutters, 4 stroke blower and hedger
Scag - extremely heavy duty American zero-turn ride on mowers for the serious contractor
Cub Cadet ride on mowers which are great for the professional user or acreage owner
Rover which includes their ride on mower range, push mowers, self-propelled mowers and trimmers
Shindaiwa home pro and professional 2 stroke machines including brushcutters, blowers, hedgers and chainsaws
Echo who produce top quality trimmers, chainsaws and blowers
Atom with their range of 2 and 4 stroke lawn edgers
Now stocking the Jonsered range of ride on mowers
Come and check out our store at 42 Garfield Rd East, Riverstone - right in between KFC and BWS,
across the road from Australia Post.
Winter Trading hours 1st June - 31 August:
Monday to Friday: 9am - 5pm
Saturday: 8am - 1pm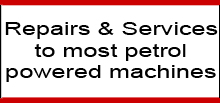 |
|
|
|
|
|
|
|

|