RIVERSTONE MOWER WORLD MOWERS & GARDENING EQUIPMENT

Riverstone Mower World, your local lawn mower and hardware shop, has been servicing Riverstone and surrounding suburbs since 1993. We are a large retail and repair outlet with motivated, knowledgeable staff whose aim is to make your experience at Riverstone Mower World a smooth one.
At Riverstone Mower World you will find a wide range of outdoor garden equipment to suit everyone from the home gardener to the professional contractor. If your lawn mower is in need of some repairs or it's time to upgrade your brushcutter or chainsaw, we have something that will meet your needs. For acreage owners, your new ride on mower is in store, assembled and ready to mow. We give you a full run through on it's features and benefits and make sure you are confident using it.
Current specials



Honda UMK425 Brushcutter



25cc 4 stroke engine
Heavy duty Tap and Go trimmer head
Anti-Vibration engine mount
Safety goggles & single shoulder harness
4 year domestic/3 year commercial engine/
1 year commercial frame warranty


WAS $629.00

NOW $499.00

Honda 4 stroke blower
Model: HHB25

GX25, mini 4-stroke engine with throttle cruise control
Starts first time, every time with Honda's famous one pull easy start system
Environmentally friendly with low emissions, less noise and low fuel consumption
Improved safety and performance due to a unique anti-suction fan cover
No fuel mixing – runs on unleaded petrol

WAS $579.00

NOW $499.00
12 months interest free finance available through Latitude Financial Services. Apply for a Credit Card here:

Conditions Apply

Our leading brands include:

Stihl - complete petrol powered range in stock, including chainsaws, blowers, brushcutters, hedgers and pressure washers
Honda with their full range of mowers, brushcutters, 4 stroke blower and hedger
Scag - extremely heavy duty American zero-turn ride on mowers for the serious contractor
Cub Cadet ride on mowers which are great for the professional user or acreage owner
Rover which includes their ride on mower range, push mowers, self-propelled mowers and trimmers
Shindaiwa home pro and professional 2 stroke machines including brushcutters, blowers, hedgers and chainsaws
Echo who produce top quality trimmers, chainsaws and blowers
Atom with their range of 2 and 4 stroke lawn edgers
Now stocking the Jonsered range of ride on mowers
Sydney Metro dealer for Trans Tank International - supplying sprayers, diesel transfer units, fire fighting trailer units and more. For a full list of available items and pricing click here
Come and check out our store at 42 Garfield Rd East, Riverstone - right in between KFC and BWS,
across the road from Australia Post.
Trading Hours
Monday to Friday: 9am - 5pm
Saturday: 8am - 1pm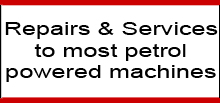 Our Suppliers

|
|
|
|
|
|
|
|

|
|
|